Chattanooga City High School - Alumni Assoc.


Classes of 1940 - 2015
In Memory
Dr. James W. Jim Henry - Class Of 1941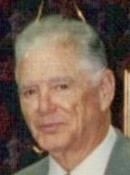 As written by Dr. Henry's Family
In Memory of
James Wallace Henry
February 26, 1922 - September 23, 2012
James Wallace Henry was born in a wood frame house in the Standifer Gap of Hamilton County on February 26, 1922 to John and Margaret Henry. He grew up at the Humane Society where his dad and mom were responsible for the welfare of people and animals alike.

The greatest event in Dad's life was the several nights he spent at Warner Park in the winter of 1932, listening to the great American revivalist, Dr. Mordecai Ham. Dad said he could feel the flames of hell calling him to be saved as he walked forward in that great tent down a trail of sawdust and gave his life to our Lord and Savior, Jesus Christ.

Also at this time he joined Troop B, 109th Tennessee National Guard Cavalry Regiment, just a little early as he was just 14 years of age but was six feet tall. For all you military history buffs and cavalry aficionados, he was the captain's "dog robber."

He found his love of sports when he attended City High School beginning in 1938. He made All-City tackle there for the Dynamos. He found the love of his life in a fine young Christian woman, Nancy Harris, daughter of Mr. Keith and Mrs. Pauline Harris. They met in homeroom together because of the alphabetical organization of homerooms by last name.

Graduating in 1941, he got a scholarship to play football at Georgia Tech where he played for two years before World War II. From his time in the Guard and junior ROTC at City High School, he readily entered the Army Air Corps where he served as a navigator instructor and gained a new appreciation for astronomy. In 1944 after Nancy finished her degree at Carson-Newman College, they were wed on August 22 of that same year.

After being discharged from the Army Air Corps, he returned to Atlanta with his beloved bride and re-enrolled at Georgia Tech on the famed G. I. Bill. He graduated and returned to Chattanooga with his sweet wife and one addition to family, born, February 18, 1948, William (Bill) Keith Henry. He was better known as "Little Henry" at City High in the '50s.

Yes, City High School once again entered into Dad's life. He sat in the stands and watched the Maroon and White take a drumming. His heart was moved so much that he went home that night and told Nancy that he was going into school teaching and coaching. He called Colonel Creed F. Bates and was hired to teach math and to coach. Later on Colonel Bates made him Dean of Students and finally Assistant Principal. During this time he earned his Master's Degree at the University of Chattanooga.

The Superintendent of the Chattanooga City Schools, noting Dad's success in all fields related to the leadership of a school, encouraged him to get his doctorate in education. For the three years he worked, taking a sabbatical and living on the Knoxville campus for two quarters while earning his degree. He wrote his dissertation on a new type of school that evaluated students by skills and not general grades in a subject. He used the design system of the Navy's Polaris missile program to develop both the building and the curriculum for the Chattanooga City Schools. In 1963 the new school was completed and was named Dalewood Junior High School and he became its first principal. His pioneering curriculum and school have now become standard for great schools and teachers. Along with his new job came a new addition to the family. Mark Wallace Henry was born on April 11, 1962.

In a short time however, City High School, now high on hill in North Chattanooga, was in need of a new principal. And the dream of his life came true. He replaced his mentor and friend, Colonel Bates. He loved those years even though he missed the old Third Street campus. He really enjoyed having some of his old staff around, even one or two teachers who had been his instructors as a high school student. His blood really ran a deep red, a maroon if you will.

The city of Chattanooga began to look for a new superintendent, someone from the inside for a change, who knew the town, who had the respect of his colleagues, who could lead the system in the racially charged years of the 70's. The name selected was Dr. Jim Henry. From 1970 through 1978 he sat in the hot seat, seeking to do what was right for all students but to effect change in such a way as to keep the change from being a major disruption to the education of those same students. The times and courts would not allow his measured, incremental plan to be implemented but forced major changes "over night." The history of the change, the impact on the students and community may never be fully known. The only thing that can be known is the pain that many suffered under the court-ordered plan.

He retired in 1978 with accolades from many in the city and state, and planned greater activities at church, in his garden and on the golf course. He became an avid walker/runner and did some 5K and 10K runs. I was impressed by the amount of Scripture that he memorized while running, as well as memorizing various hymns. His favorite was "Amazing Grace," learning all six verses.

But retirement did not sit well with him. With Nancy still working at Brainerd High School in Guidance, he was home alone, feeling like he had more to offer. He went to see his old assistant principal and coach from City High, Jim Phifer who was now principal of Notre Dame High School. He was hired to teach math, which he loved and found himself back in the saddle again. He loved, taught, inspired and occasionally disciplined students just as he had all along his career with love and good cheer but taking no lip from the arrogant. He would often walk to work from his home in Brainerd, over Missionary Ridge, teach a full day at Notre Dame and walk back home because he loved the exercise.

But then came the time when Nancy retired and they retired together basically. They settled down to a peaceable life of gardening, going to American Legion meetings or Freedom Foundation meetings and other civic activities. For a number of years they hosted Faith Bible Church (a home church pastored by his son, Bill) in their home three times a week. And for those same years God gave them a life with grandchildren, two by Bill and his wife, the former Miss Jan Bedwell: Andrew and John. Mark had three with the former Miss Shannon Perry of Murfreesboro and they had Olivia, Greg and Matt. They also enjoyed the gift of great-grandchildren from their grandson John, who married the former Miss Katy Mills of Hixson: Ethan and Ava. They had wonderful times of travel and friends while keeping family a priority even as time and distance began to make separations. Amazing that this man with all of his honors, titles and awards, considered his most prestigious award the name "Daggy" given by his grandchildren.

After seeing his beloved wife of 64 years go on to heaven in 2009, he moved to Ooltewah to live with Bill and Jan until the Lord called him home September 23, 2012, at the age of 90. Having been resting peacefully for three days, Johnny Humphreys, City High Class of 1957 and a deacon at Calvary Bible Church where Jim was now a member, and Johnny's wife, Debbie, were about to leave his room at Memorial Hospital. Alone with him in the room at that moment, Debbie held his hand; Johnny prayed. Dad's eyes opened in recognition of their presence, a smile graced his lips and he passed on into Glory. How sweet must it have been the next person he saw, our beloved Lord and Savior, Jesus Christ. Then Heaven rained down its joy as he beheld his Nancy and all his other family and friends who had preceded him to this Place of no sorrow, suffering or sadness.